The guide lines for the possible new Indy Club picture Logo are:
The logo should represent the CITY of Indianapolis. (We are the BMW Motorcycle Club of Indianapolis.)
The picture Logo does not need or cannot have any wording such as Indianapolis or BMW in it.
That information is incorporated in the text part of the logo area.
The logo should represent motorcycle riding. It should not be too complicated, which would make it more difficult to reproduce.
Once the suggested changes are received by the end of Sept. they will be voted on along with the present logo.
---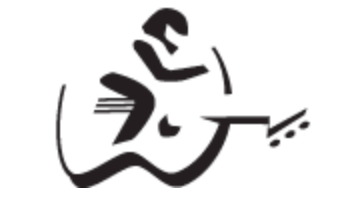 At left is the logo that is being used by the BMW Club of Nashville. The guitar represents the "Music City" and the moto man represents riding.
---
Our Present Logo
Pop Dreyer and Kenny Jagger where the ones who started our club. Our club was the 17th club to be a charted by the MOA. There are now 191 charter clubs in the MOA.
When our present club logo was created the checkered flag represents racing.
Racing WAS and still is the Indianapolis 500; everybody knew about the Indianapolis 500, and still do.
Back then, Pop sold BMW motorcycles, every day Pop put an ad in the Indianapolis newspaper. "BMW the Gentleman's Machine." That explains the top hat, which represents a Gentleman. It added a bit of sophistication to the club's image.
The circle with the black rule was used to allow the logo to be but on a white surface.
If you have questions, please contact Wayne Garrison, who is listed in the directory.