This is really pretty easy. If you can write an email and send it, you can make a Post. Select   Posts/Add New from the left margin of your Dashboard or from the "New/Post" item in the black bar that appears at the top of the website after you have logged in. Enter a headline or title where the cursor is and the grey text says "Enter title here." That's not too complicated is it?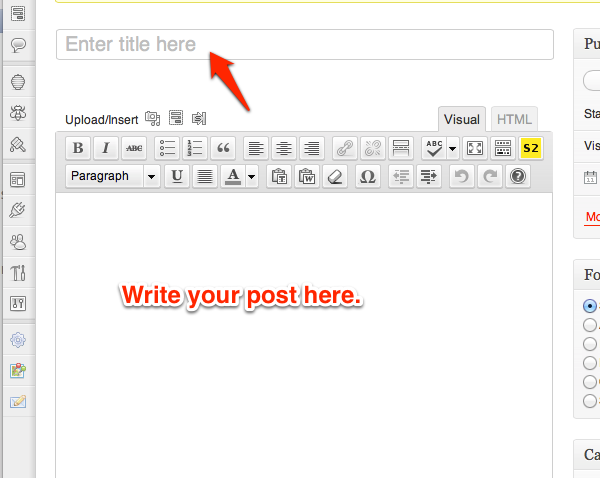 Next select a Category(s) for your Post. The list of Categories is found along the right-hand margin. You may select more than one Category for your Post. Now click the cursor in the writing area and begin to write. When you are finished, click the blue "Publish" button at the upper right. Note that once you have selected the "Publish" button once, it is now labeled "Update." If you make further edits, click "Update" to save the changes.
If you are making a Post to sell something, be sure to use "Marketplace" as the category. That will automatically put your Post in the "Marketplace" main menu item. Once you sell your item, be sure to go to the Dashboard, do a QuickEdit and unpublish or delete your Post.
It is easy to insert a picture of the item you are selling.