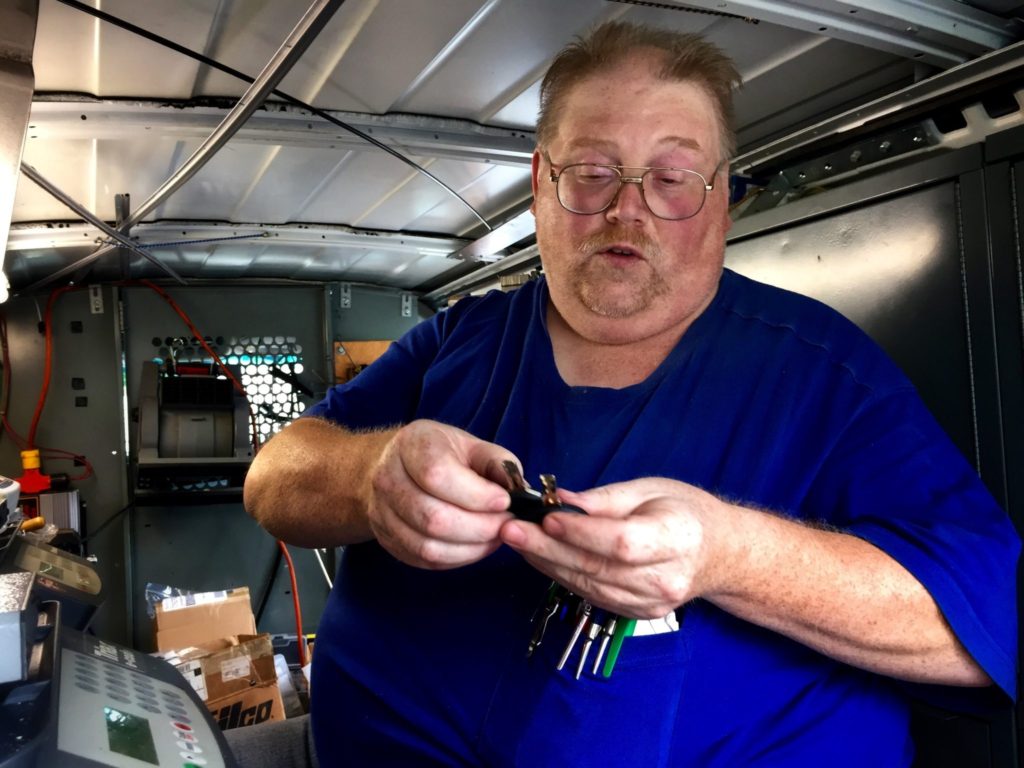 Dr. John Bonsett-Veal, a close friend from the Madison, Wisc. area, came to Indy to get some spare ignition keys made for his R1200RT. James, the key master, was recommended by his dealer in Wisc. It turns out that James specializes in motorcycle keys and can copy keys from many brands, including BMW, Moto Guzzi and Ducati. He can duplicate many keys with the embedded chips. He gets keys by mail from all over the country to duplicate from his unassuming workshop in his home or panel truck. He also does house locks. He does not do safes and vaults.

John had asked me to meet him there so we could talk while the keys were made. He was on his way to officiate at a wedding in Memphis. I didn't know when he would arrive so I got there early. Unknown to me, he had called James earlier to tell him he had just crossed the Indiana border on 74. James was expecting a motorcycle to arrive and I did 10 minutes later. James came out of his house and said, "Man you must have rockets on that thing."
James and I talked for about an hour before John came up. He is a fascinating guy. I watched him work. He is methodical and meticulous. The keys he makes are not cheap but my guess is they are much cheaper than ordering from BMW and he is here in town so you don't have to wait.
While I was there he tried to read the code from the spare key in my water-head GS. His equipment wouldn't do it. He could not read the wireless ignition fob either. But he did make John's R1200RT keys without a problem. It's quite a process. Some code is read from the bike and other code is read from the key to be copied.
From what he said, he makes most all the duplicate keys for Ducati's for the country.
Based on what I have seen, I recommend him.
Here is his contact information:
Able Lock & Key Service
4717 E. 16th St.
Indianapolis, IN 46201
(317) 356-HELP (4357)
info@ablelockandkey.com
http://www.ablelockandkey.com/home.html
That's just a short distance east of Emerson on 16th. His house is on the south side of the street with a large key in the lawn-naturally.