I wanted to share some pictures of my trip in March to New Mexico… I ended up finding an amazing rental place (Adventure Bikes New Mexico) right where me and my friends were planning on going (Ojo Caliente). I wanted to take my bike all the way there, but since I did the trip with three other people we made it a road trip in a car… so it was great to find that rental place. They have now two F800GS bikes for rent, one 650GS (2004 model I believe? It's a thumper) and a few KLR 650 bikes. Chris, who runs that rental place (very small, on his own property, he also rents out mountain bikes) gave me some good ideas for some rides in that region. He even let me play around with the 800GS the last day (I decided against renting it for my trips there, since I couldn't even reach the ground with my toes.. I just didn't have enough days to get used to that while there).. I got to try and ride in sand for the first time.. I did it with the 650GS.. which went ok..but with the 800GS it felt like I was just smoothly riding right through it ..kind of felt much lighter to ride with the 800GS in the sand than the 650GS.. needless to say.. I am now in love with the 800GS.. and don't care that I can't reach the ground!!
I was very exited to finally escape the nasty Indiana winter..since not too long before my trip I played around in the snow: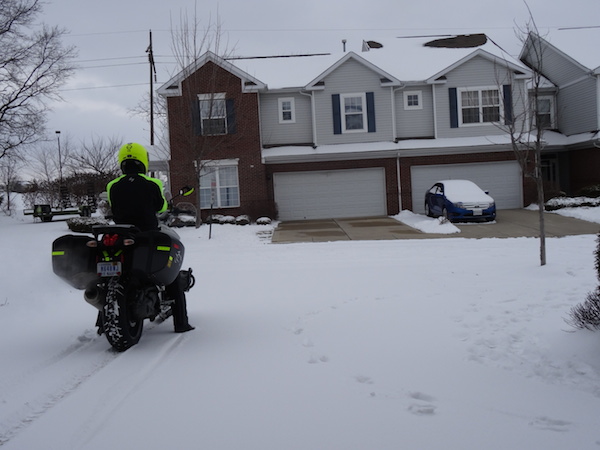 And when we finally arrived the second day of driving in New Mexico..we got more of that white stuff! Needless to say people where freaking out on the roads, of course it had been my turn to drive and it was a pretty miserable hour of driving in a snow storm… half an hour before that I had the pleasure of experiencing muddy rain right after driving through a sand storm (locals told me it was called a brown out.. kind of didn't like that name..yuck..). Well, as soon as we got closer to Santa Fe, the snow stopped and all was well again. We continued to Ojo Caliente the next day, and as soon as I could I went to pick up a bike from ABNM.
I really really wanted to ride the 800GS and show off..but I did not want to embarrass myself at an intersection on some weird incline/decline and not get the correct foot down and drop the bike (I had to hop off the bike sidewise a little to get my foot down). So, I got to ride a thumper..for the first time.. it was fun! I just had to get used to less power.. I kept on merging too early into traffic, thinking I could accelerate faster than the bike was actually capable of. It did make me miss my R1200R!
Here she is.. I had quite some fun with that 'little' bike (Chris made fun of me for calling it little).
This was on the way from Ojo Caliente to Ghost Ranch.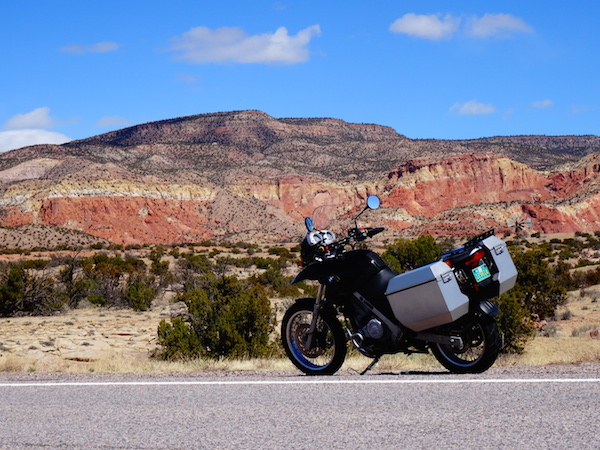 The views were absolutely breath taking.. It made up for the cold weather and the very strong winds that day!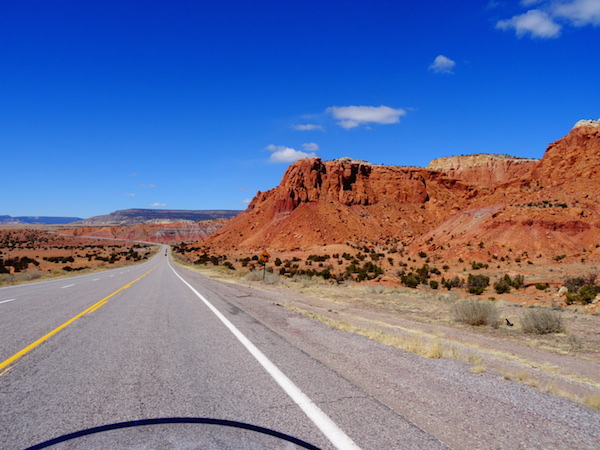 I had to get back to meet the rest of my group at the hot spring of Ojo Caliente, so I only got about 2 hours of riding time before I had to head back towards the Hot Springs.. which of course was HORRIBLE..having to sit in hot pools of mineral water when I was freezing down to the bone (I wish I had brought my heated jacket!) by the time I got there … of course it was absolutely amazing and beautiful..so it was a good way to make up for not having more time for riding.
Before I went back to I stopped shortly at this building at the entrance path to Ghost Ranch… this is where city slickers was filmed 🙂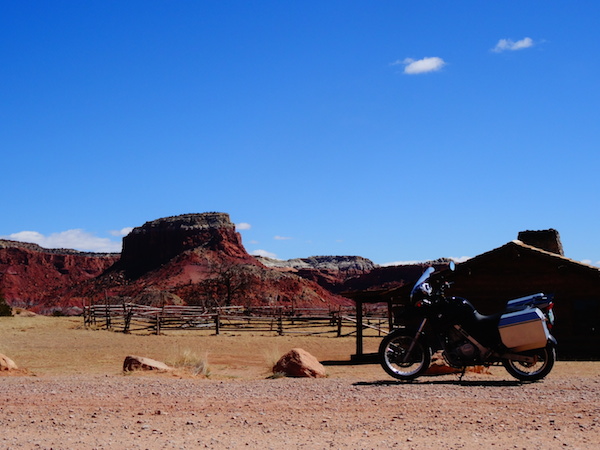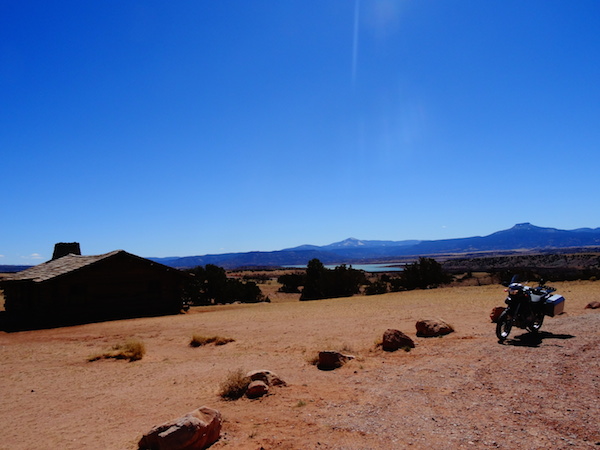 After a relaxing evening in the hot mineral springs and an amazing dinner at a little hole in the wall place in the middle of nowhere, I went to bed early to get ready for a day of riding the next day.
Next day we (I followed for a while and then took my own route on the bike) headed out early towards the High Road to Taos. It was beautiful, but very cold (at least not as windy though as the day before).. most of the day I rode in the lower 40s. I got to even see that white stuff again that falls from the sky 😛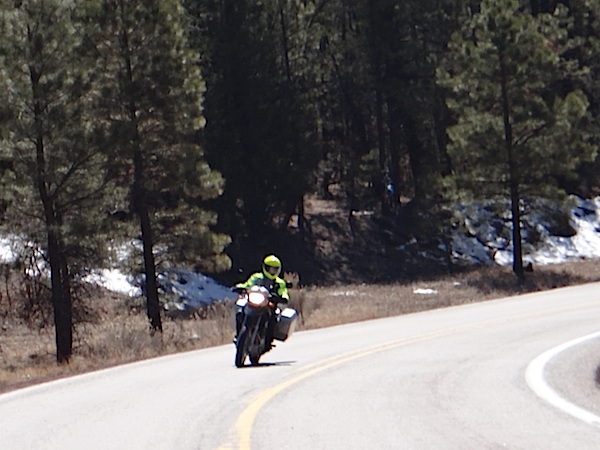 not a great picture, but it gives you an idea of the type of roads I traveled that day.. high up, and cold, but absolutely beautiful views! And the New Mexico blue sky is just absolutely breath taking!
And as it turns out the "little GS that could", liked it when I leaned her into the curves.. I was a little worried about that at first..not being used to this bike. But there were quite a few curves I leaned in more than I probably had before on my bike, it was just difficult not to start doing that.. I got into the rhythm of it and all of a sudden it just started happening on its own.. I guess the bike seemed so much smaller than mine (not necessarily that much lighter though), that I became very confident (maybe a little over confident at times). One of my friends was taking a few snap shots of me while I was still following them in their car.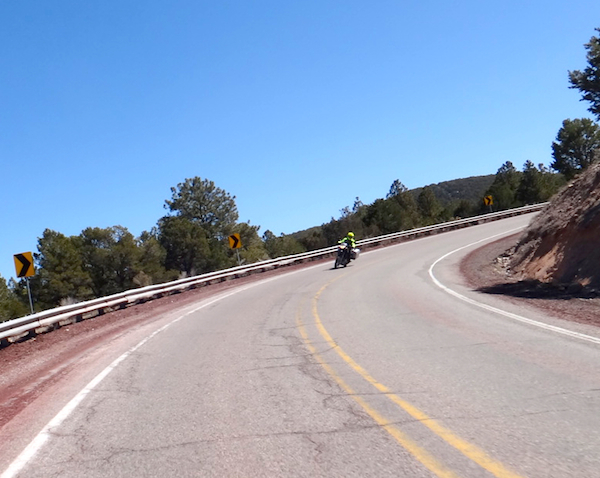 Then it was time to split from the group and head towards the Rio Grande Bridge and then down into the Rio Grande valley… and also finally do some more off road riding! (mostly just gravel..sometimes pretty deep, but mostly easy stuff).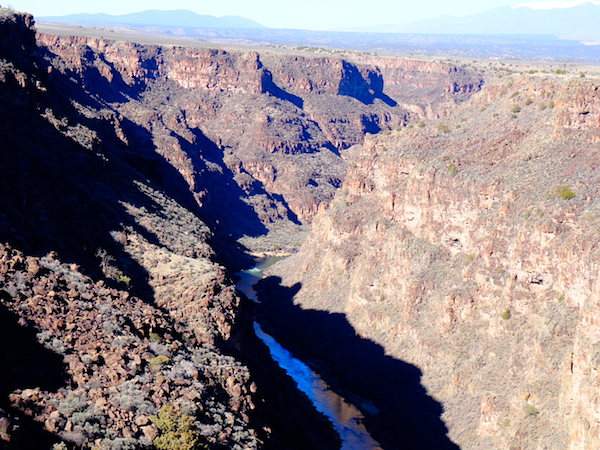 After crossing the Rio Grande Bridge north west of Taos, I took a smaller road to head towards the gravel roads that take me down to the Rio Grande (Chris gave me a great map and great advice for a fun trip!).
When I saw the sign below, I knew I was at the right place!! 🙂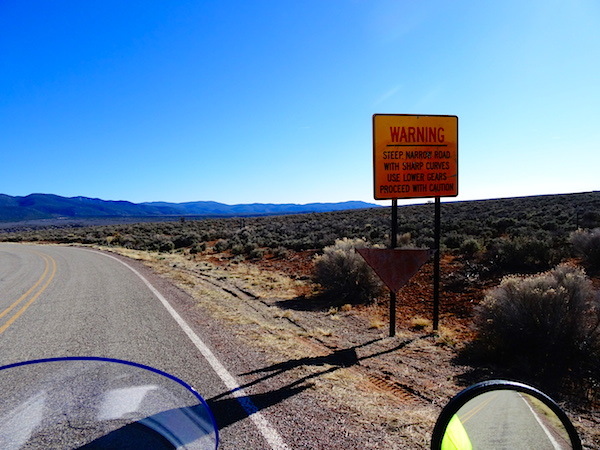 One last picture before heading down the gravel road. I was as excited as I was as a three to four year old when I got to go skiing the first time.. although I was more careful than back then.. back then I simply threw got onto the skis and took off down a steep hill when nobody was looking.. laughing the whole way down (until I probably fell on my face, still smiling though!)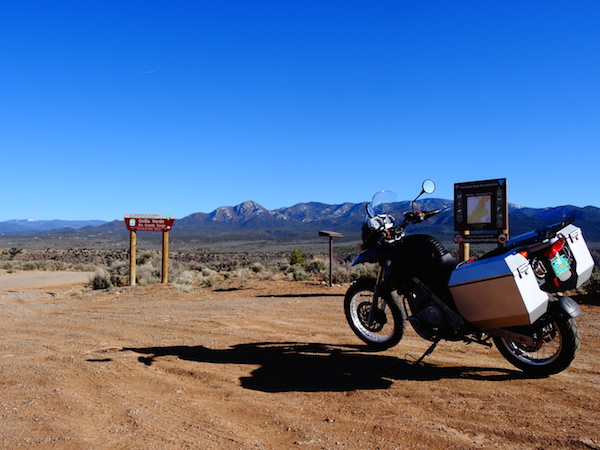 and down it went 🙂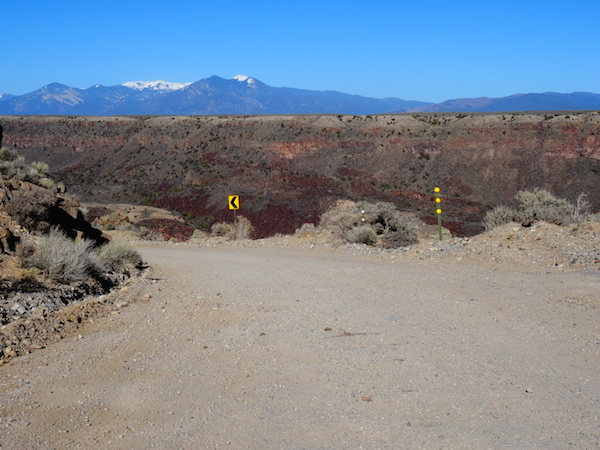 fun sharp turns…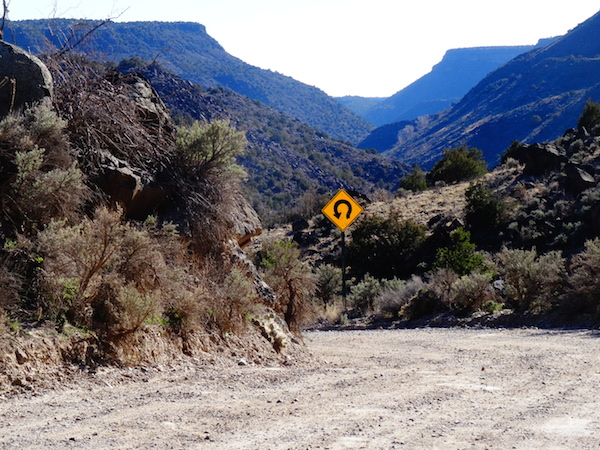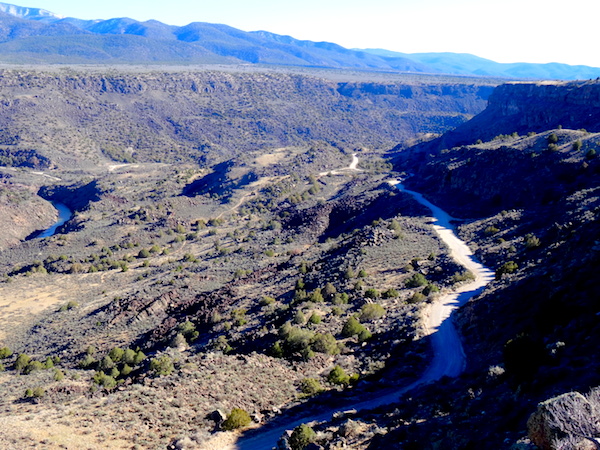 and down I was (it went way too fast for me.. I could have done that all day long!)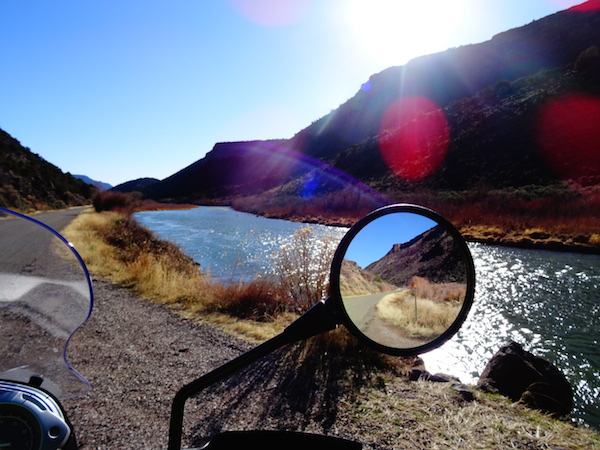 but at least now that I was down in the valley, I finally got to warm up… sunny, mid to upper 50s and no wind.. just beautiful sceneries, blue sky, and the rio grande along side the road.. I think I am moving to New Mexico ….
But eventually it had to end, and I brought the bike back to ABNM, where Chris has this beautiful house, with great property for off road riding, a horse, donkey, and a dog … best part of course is the shed full of bikes!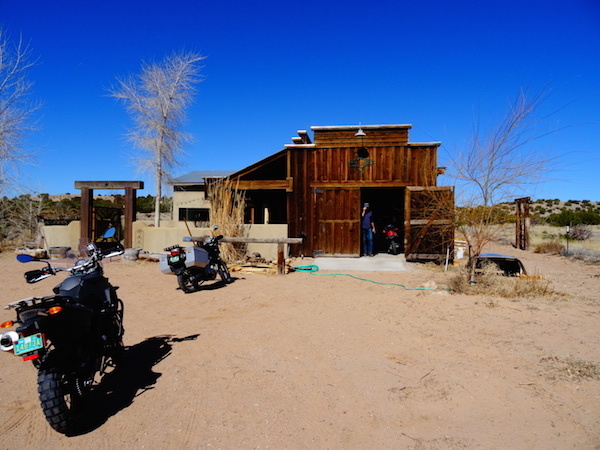 and then I got to play with this fun beast below (yes yes, I fell in love with YET ANOTHER BMW! This BMW thing is nearly as bad as my chocolate addiction! Which brings me to an interesting fact, not only does Chris rent BMW bikes, but he used to be a chocolatier at some point too… he knows how to live life!)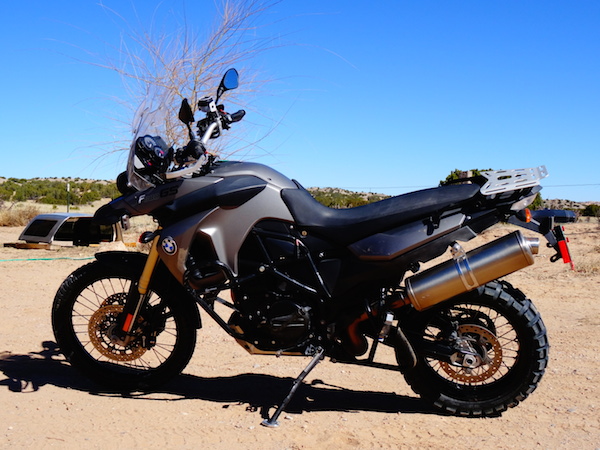 And then it was goodbye New Mexico.. back towards Indiana… but I still got to get a look at this guy below, before leaving New Mexico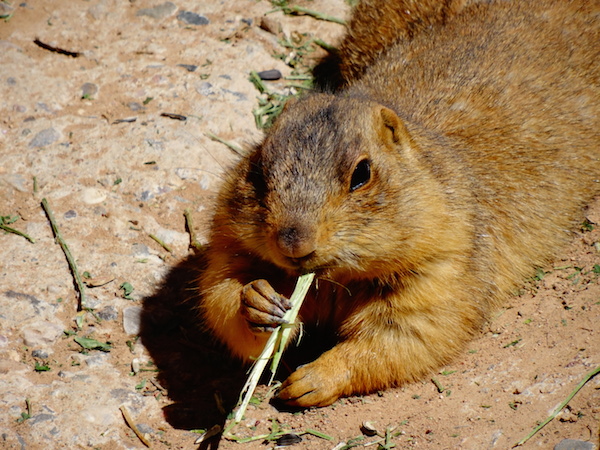 I can't wait to ride on my bike back out there … if the stupid job thing wasn't in my way (and the running out of money thing) I would already be back there now!